The auctioning activity involves the most diverse goods, be they real estate, machinery, industrial equipment, automobiles, among others. However, there is a niche market in the auction sphere: luxury goods. Items such as pieces of art or jewelry are among the most common to be auctioned, usually by large auction houses such as Sotheby's or Christie's. 
With the resumption of face-to-face auctions after the most critical period of the pandemic, the market is more receptive to buying high-value tangible goods, so there are more luxury goods up for auction, and they are quite profitable from a financial point of view.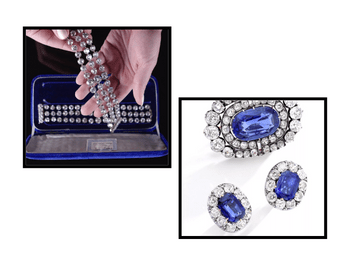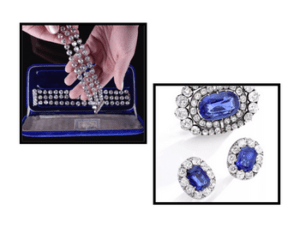 Some of the items up for auction.
Pieces of art such as Debbie Wingham's latest creation, a 10,000 diamond, platinum powder-coated painting of the Burj Khalifa, is on sale for 1.7 million euros. The uniqueness of the piece may mean that in the future it could go to auction for more than it is valued at.
On the other hand, jewelry from Queen Marie Antoinette has gone up for auction, fetching incredible values. A set of double bracelets consisting of three strings of a total of 112 diamonds reached more than 7 million euros, while a Fancy diamond ring, weighing about 7 carats, reached 9.5 million euros, and a yellow diamond ring weighing 43 carats (in conjunction with another ring) was bid for about 3.8 million euros.
Some of the jewelry of Grand Duchess Maria Pavlovna of Russia is also going up for auction. The items up for auction include, among others, a 26-carat diamond ring, estimated at more than 5 million euros, and a set of an oval brooch and a pair of sapphire and Asscher diamond earrings, both with 26 carats, which can reach values between 4.4 and 5.4 million (American) dollars.
The values pitched in this type of auction are in stark contrast to the stereotype that auction activity is based on low-value items, reiterating the relevance and prevalence of the luxury niche in the auction market.