Memorabilia auctions presuppose the sale of a set of objects with enormous value to the public, since they are associated with characteristics or events that are memorable to the people who acquire them.
From the famous Fabergé eggs associated with Russian royalty to handwritten song lyrics by the Beatles, the memorabilia attracts fans from all over the world.
Of the many pieces of memorabilia successfully sold at the auctions, the following stand out:
John Lennon's Piano – This piano was purchased by John Lennon in 1970, and on it the song "Imagine" was composed. It was bought at auction by George Michael in 2000 for £1.45 million.
Stevie Ray Vaughan's guitar – Stevie Ray Vaughan's guitar was auctioned for $623 500, which was donated to charity by the musician's wife.
Autographed Stratocaster guitar – The Fender Stratocaster is autographed by renowned singers such as Mick Jagger, Keith Richards, Eric Clapton, Brian May, Jimmy Page, David Gilmour, Jeff Beck, Pete Townsend, Mark Knopfler, Ray Davis, Liam Gallagher, Ronnie Wood, Tony Iommi, Angus and Malcolm Young, Paul McCartney, Sting, Ritchie Blackmore, Def Leppard, and Bryan Adams. It was auctioned for $1 million at a 2005 auction in Qatar to raise money to help victims of the Asian tsunami.
Jim Morrison's Last Notebook – Morrison's last notebook contained several poems, incomplete lyrics, and some newspaper clippings, all written in the months before his death. A collector in the US acquired it for $91 000.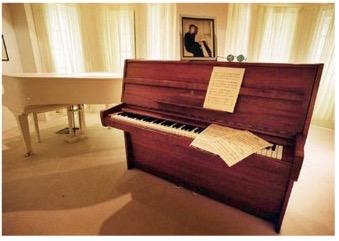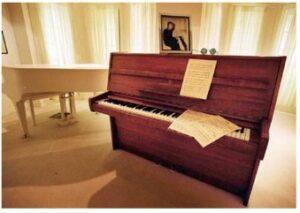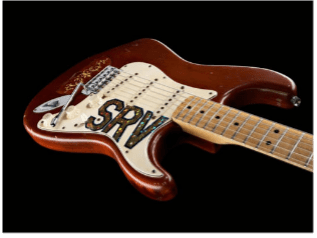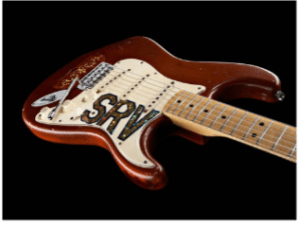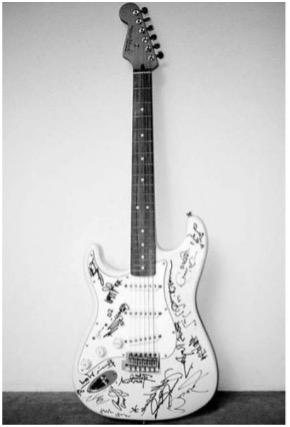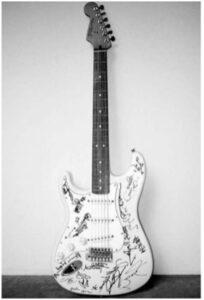 In addition to the examples mentioned above, it is still possible to find several valuable items for sale at auction. Courtney Love, Kurt Cobain's widow, put on auction at Christie's some of the singer's clothes, as well as gifts he had given her, these objects are available for 40 million dollars.
In addition to these pieces, there will be an auction that will focus on the sale of three objects belonging to or signed by Steve Jobs. These three items include a job application questionnaire, an OS X technical manual signed by Steve Jobs himself in 2001, and a newspaper clipping signed by Steve Jobs and Tony Fadell in which the 2nd generation iPhone is introduced. The starting bid values for the questionnaire will be $50,000, the value for the technical manual will be $25,000, and finally the newspaper clipping will start bidding for $15,000.
Often driven by the fantasy, admiration or science fiction domain, fans and collectors, can find and purchase most of these types of items from auction dealers or on order from an online retailer. Sometimes these items and objects can be found relatively cheap, while others can be auctioned for huge monetary sums.